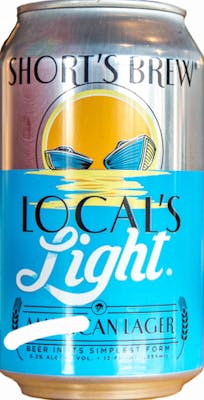 SKU: 79402850043
Short's Brewing Company Local's Light
---
Please call Party Mart about this product. (731) 668-2430

---

Local's Light is an American Lager made with the same level of dedication and intensity that we put into every beer we make. We call it "Beer in its Simplest Form" because it is just that: an all-grain, crisp, clean, bright yellow lager. Tastes great on a boat, in a backyard, at a dive bar, by a campfire, at a concert, on your couch. This is our go-to beer and our opus, perfected continuously since 2004, imported from Northern Michigan and delivered to your taste buds.

Local's Light is classic American Lager crafted by Joe Short in 2004 to be "beer in its simplest form". It's a bright yellow beer with effervescent aromatics of fresh malted barley and lager yeast. Local's Light has soft and subtle flavors of malt that finish crisp and clean that's perfectly balanced for smooth and easy drinkability.